Laminate Flooring in Annapolis, MD
Are you searching for a durable flooring solution that looks luxurious?
At Annapolis Carpet & Floors, we have a large selection of laminate flooring options that range from wood-look to stone-look styles. You can now have the hardwood floor of your dreams and rest easy, knowing that its uncompromising durability can withstand daily household messes.
Our flooring experts will keep your design needs top of mind, carefully selecting the perfect laminate options to match your active lifestyle. Stop by our Annapolis, MD, showroom today to find beautiful new laminate floors!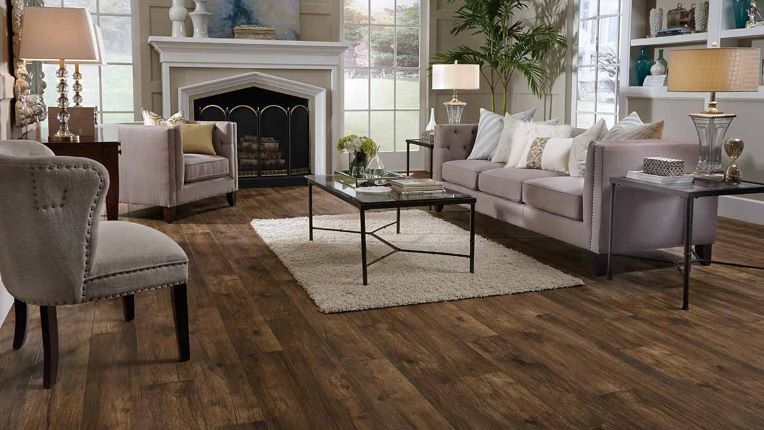 Types of Laminate Flooring Available
Laminate flooring is a versatile flooring choice for any space in your house, as it is designed to mimic the look and feel of natural materials. Composed of four durable layers, laminate offers a stable core, a stunning photo layer, and a protective wear layer that resists water, stains, and scratches.
Whether you're looking for a contemporary light oak in the kitchen or vintage hand-scraped planks in the bedroom, our selection of laminate will exceed your design aspirations. Learn about the types of laminate floors we carry:
Wood Look Laminate Floors - Laminate wood authentically mimics the look and feel of solid wood, but with added performance benefits at a much lower price. Pick your perfect design with graining, knotting, cuts, and stains.
Tile Look Laminate Floors - If you dream of a modern slate tile bathroom, you can achieve this look with much warmer and cost-effective laminate tile flooring. Choose from a variety of natural stone, ceramic, and porcelain style options.
What's The Difference Between Laminate and Vinyl Flooring?
The choice between laminate and luxury vinyl flooring can significantly impact your home's appearance and functionality. Both laminate and luxury vinyl floors can elevate the look and functionality of your Maryland home. Our knowledgeable team is here to guide you in determining the ideal flooring type for your specific project needs and lifestyle preferences in the Annapolis area!
Both types of flooring have four layers, but their core materials and other factors set them apart.
Laminate Flooring: With a core made from wood byproducts, laminate flooring offers some resistance to water. However, it's essential to note that it's not completely waterproof throughout the entire plank. Generally, laminate flooring tends to be more budget-friendly compared to luxury vinyl
Luxury Vinyl Flooring: Luxury vinyl flooring, on the other hand, features a waterproof rigid core. This characteristic makes it an ideal choice for areas with high moisture levels, which are common in our coastal region.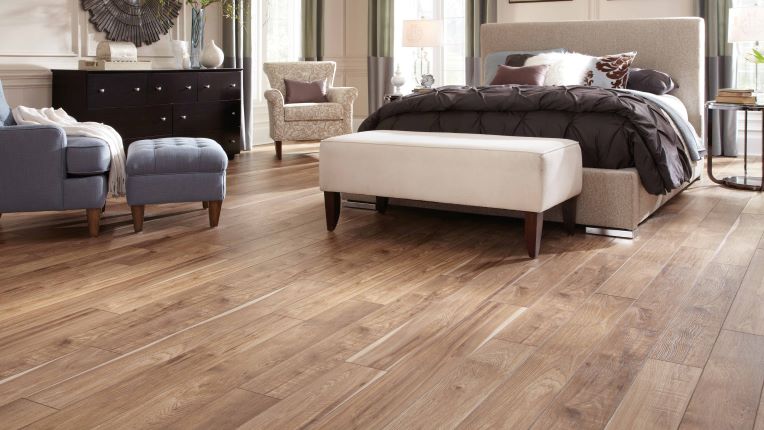 Why Choose Laminate Floors for Your Annapolis Property?
Growing in popularity, laminate continues to provide our Annapolis customers with a variety of unique benefits. Recent innovations in the industry have brought incredible new options to the market, allowing style to equate to performance.
As a local store and a part of the Flooring America cooperative, we have access to top-performing laminate products at low costs. We only carry industry-leading laminate brands, including Shaw Floors, Mohawk, Mannington, Floorcraft, and much more!
Discover all of the benefits of choosing laminate for any room in your home:
Quick and hassle-free installation for instant enjoyment.
Adapts well to humidity and temperature changes.
Enhances your home with the elegance of hardwood or natural stone.
Affordable and highly durable.
Ideal for moisture-prone areas like kitchens, bathrooms, and basements.
Easy-to-clean maintenance for a simple life.
Enhances insulation, reducing heating costs.
Provides a comfortable, resilient feel underfoot.
Resistant to scratches, moisture, stains, and fading, making it low-maintenance, especially for active households.
Hypoallergenic and pet-friendly, requiring minimal care for long-lasting durability.
Professional Laminate Flooring Installation with Our Specialists
Not only will our flooring experts assist you in making the right flooring choice for your home or business, but we will also provide premium laminate flooring installation services to ensure that your new floors are beautiful and long-lasting. While it might be tempting to look up "how to install laminate" and attempt to install the laminate floors yourself, we highly recommend scheduling your laminate installation with our team of experts. Our brand and product knowledge will serve you well as we come prepared with the industry's best tools and equipment.
Further, we guarantee a seamless and quick installation with our Adore Your Floor Guarantee. This ensures that if you are unhappy with any aspect of your laminate floors, we will replace them with a product of similar cost within 30 days of installation. Are you ready to start the journey toward gorgeous new laminate floors?
Contact us today to discover all your laminate flooring options! We proudly serve Annapolis, Edgewater, and Arnold, MD.